herald sun building
Apartment Fit-out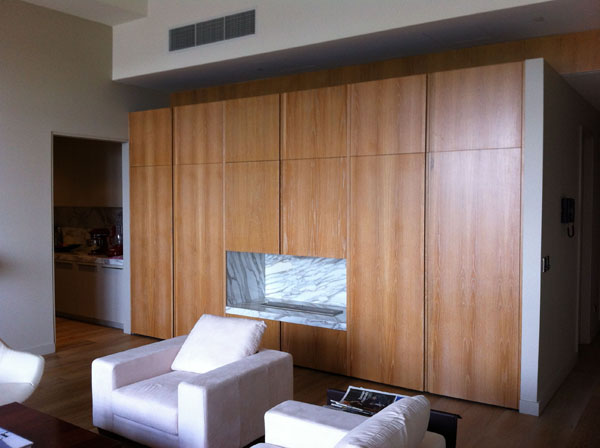 When the Herald Sun building apartment conversion occurred a number of years ago, poor quality materials were used and as a result, showed signs of wear much earlier than residents expected. Our client asked us to renovate his penthouse residence aligning the impressive exterior address to an equally impressive interior, custom designed for entertaining. Additionally, Co-lab Architecture were briefed to incorporate a home office and expand the wardrobe area without visibly reducing the living space.
An interior design language was developed around three key themes - timber, marble and luminous lighting. Solid veneer timber floorboards extended seamlessly into an integrated wall unit enclosing a workstation, fireplace and bar. White marble provided contrast in the bathroom and living spaces, with a custom designed marble bar running the length of the art deco windows.
Lighting fixtures were chosen to create specific mood zones dependent on the space purpose. Furniture and fabrics were selected to compliment the design and architectural features.